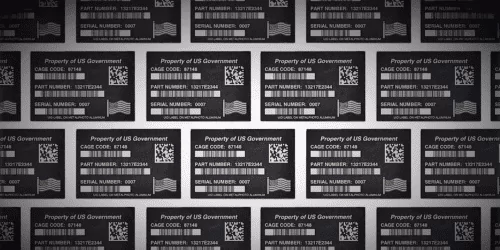 What is MIL-STD-130?
The US Department of Defense utilizes highly specific sets of rules to standardize military operations. These are referred to as MIL-STD guides. Each document involves a different topic.
MIL-STD-130 policies are for marking and identifying military owned assets. Specifically using the Item Unique Identification (IUID) system.
What is MIL-STD?
A MIL-STD (Military Standard) is a set of guidelines set forth by the United States Department of Defense (DoD). These standards are put in place to ensure uniformity throughout the military.
Each MIL-STD document thoroughly explains its criteria. They typically include rule lists, explanations, and diagrams.
The sheer number of acronyms, abbreviations, and highly specific verbiage might overwhelm the reader. In order to combat this, the guides also include full definitions, glossaries, and appendices.
By using clear and comprehensive descriptions, the MIL-STD leaves little to interpretation. Involved parties have all the information they need.
How Precise are the Guidelines?
The rules set forth by the DoD are extremely specific. This makes sure all of the processes are followed in the exact same way every time.
The guidelines are incredibly detailed. For example, MIL-STD-130 specifies down to even specific fonts that should be used for marking.
It may seem like a lot of effort to adhere to these procedures, however it is the best way to establish and ensure uniformity.
What is MIL-STD-130?
The goal of MIL-STD-130 is to set in place clear guidelines for identifying military equipment, parts, and assets.
A main focus of the document is establishing the UID system. UID or IUID stands for Item Unique Identification. The purpose of this is to place a one-of-a-kind code on each individual asset. No duplicates are permitted.
The codes are scanned into a tracking system which allows for asset monitoring. Important information includes: location, condition, asset value, etc.
DoD Assets which require a UID tracking code
Serially Managed Items
Mission Essential Assets
Controlled Inventory
The acquisition cost for that unit is greater than $5,000
Who Does this Impact?
This rule set impacts many individuals and organizations among various levels of military involvement.
Military organizations themselves have to adhere to these new rules in their daily operations. This should be a seen as a good thing as the policies are there to provide major benefits and eliminate any miscommunication or inefficiencies.
Outside of the military, civilian owned contracting firms that manufacture for the Federal Government have to follow these standards as well.
If your organization produces for the military, you must stay up to date on all the latest changes.
Organizations which comply with the regulations on a consistent basis are more likely to receive and maintain Government contracts. In comparison, failure to do so may result in cancellation of contracts or even refusal of payment.
The negative impact from a manufacturer's perspective is added time and cost associated with following these practices. The highly specified rules means producers must be extremely diligent throughout all stages of the manufacturing process.
It also adds burden to customers as they must provide extremely specific information to the manufacturer.
This can slow down production, create bottlenecks, and lead to wasted resources even if small errors are made.
When are Military Standards Updated?
MIL-STDs are not permanent. They must adapt to new situations and developments as they develop. Military needs may change over time in new environments or tasks. Plus, technology's rapid advance means the DoD has to keep up.
In addition, problems may arise with the current set of specifications. After a new policy is adopted, inefficiencies or issues with the process means another update is necessary.
The guidelines are updated at various intervals, typically every few years (if needed).
What's New in MIL-STD-130N w/Change 1?
The most recent update to MIL-STD-130 is titled MIL-STD-130N w/Change 1. It was put into effect on November 16, 2012.
The previous version (MIL-STD-130N) was published on December 17, 2007.
The new changes include a total of 7 additional business rules.
Added a provision that labels may contain a free text warning such as "AUTHORIZED REMOVAL ONLY" or "DO NOT REMOVE" to preclude unintentional removal
Clarified the font characters that are allowed for item unique identification (IUID) marking
Added a business rule for marking "very small parts" using IUID procedures even while the marking cannot meet the minimum requirements of this standard.
In addition to new rules, several prior rules were revised and administrative changes were noted. The revisions include verbiage changes, as well as new definitions. A number of them include clarifications of the prior policies. For example: it now specifies font characters for IUID markers.
Wrap-Up
Military standards are meant to make the Department of Defense and affiliated organizations work as effectively as possible. By establishing clear and descriptive guidelines, miscommunications are eliminated. A uniform organization should run more efficiently.
If you are an individual or organization affected by MIL-STD polices, it is in your best interest to stay up-to-date on any changes. Knowing the ins and outs of the guidelines will ensure you don't run into any issues.
CUSTOMER TESTIMONIALS

"Metal Marker's Customer Service Representatives have been wonderful to work with. Every order is accommodated in a timely fashion and with a smile. We refer all of our customers requiring identification products to Metal Marker. Thanks for the support!"

Equipment Manufacturer

General Manager

"Our account was handled very professionally. I appreciated the suggestions from the Customer Service Representative. The product we received was of very good quality at a fair price."

Electric Utility

Mgr. of Purchasing & Facilities

"Great product and service. Great quote and product turnarounds. Metal Marker has literally pulled us out of the fire."

Equipment Manufacturer

Project Manager

"Your Customer Service Representative has done an outstanding job taking care of our needs. Your Customer Service Representative has given us great service and we are very satisfied. Metal Marker is accommodating and easy to work with."

Drilling Company

Executive

"I never have to worry about quality or our shipments being late. I know that once something is in Metal Marker's hands that it will be taken care of without a second thought or follow up from me."

Aerospace Company

Executive - Manufacturer

The BEST Solution to Meet Your Identification Requirements:

High Quality Identification Products.
Designed to Meet Your Requirements.
Delivered On Time.
At a Competitive Price Creating Exceptional Value for You.

We are ISO 9001 and AS 9100 Certified!

The ISO 9000 family addresses "Quality management".

This means what the organization does to fulfill:

The customer's quality requirements, and.
Applicable regulatory requirements, while aiming to.
Enhance customer satisfaction, and.
Achieve continual improvement of its performance in pursuit of these objectives.

Real Time Support

Need information quick? Use the Real Time Support to get ahold of a real person in seconds!

If we're Offline you can leave a message and we'll get back to you as soon as we can.